June 23, 2020
Updated: June 23, 2020
President Donald Trump on Tuesday said he's authorized the federal government to arrest any person who vandalizes or destroys a monument or other federal property.
The wrongdoers will face up to 10 years in prison, Trump said in a social media statement.
"This action is taken effective immediately, but may also be used retroactively for destruction or vandalism already caused. There will be no exceptions!" the president said.
Prosecutors can use the Veteran's Memorial Preservation Act or other pertinent laws. The act, passed in 2003, says that people who willfully try or successfully injure or destroy any structure, plaque, statue, or other monument on public property commemorating service in the armed forces of the United States shall be fined, imprisoned up to 10 years, or both.
"Numerous people are in jail, or are going to jail today," Trump told reporters outside the White House Tuesday morning before leaving for Arizona.
"We're looking at long-term jail sentences for these vandals and these hoodlums and these anarchists and agitators. Call them whatever you want, some people don't like that language, but that's what they are. They're bad people. They don't love our country."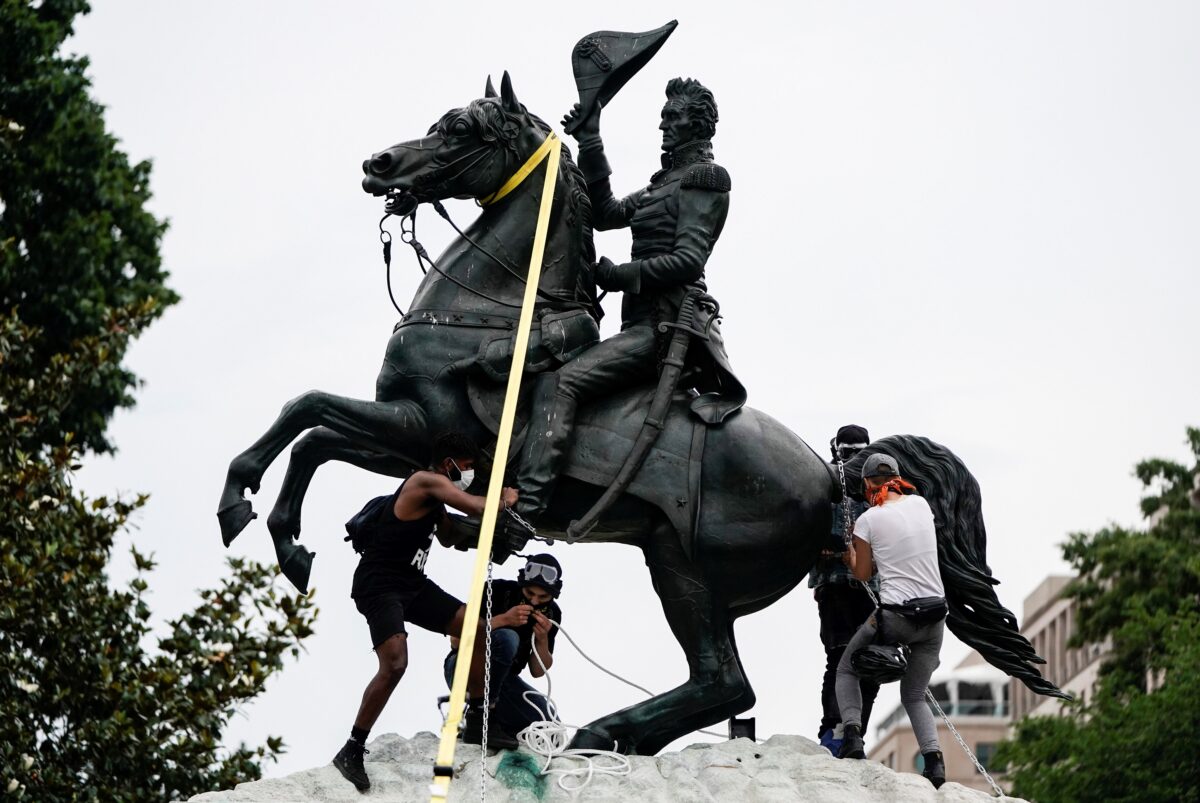 The order reinforces existing law, Trump asserted.
Two people were arrested while U.S. Park Police prevented vandals from toppling a statue of Andrew Jackson near the White House late Monday, a spokeswoman told The Epoch Times.
Secretary of the Interior David Bernhardt condemned those involved, describing them as anarchists and criminals.
The Lincoln and World War II memorials were previously defaced, he said.
"Across the country, some elected leaders of our cities have expressed enthusiasm and support for these criminals, exhibiting an undeniable unwillingness to protect law abiding citizens and their property," he said on Twitter.
"We live in the greatest country in the world, and I thank our dedicated law enforcement officials who stand tall against these coordinated attacks and seek peace and justice for all."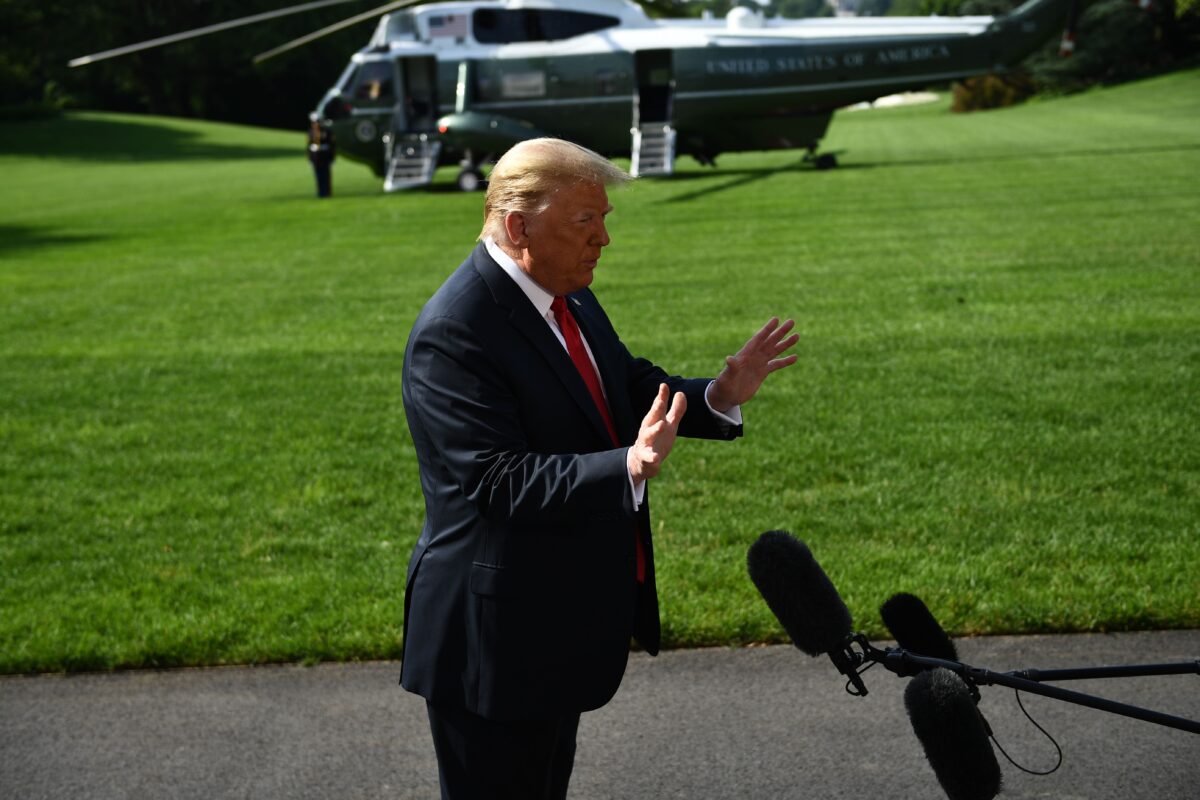 Vandals have torn down statues during protests in recent weeks, including memorials to Founding Fathers Thomas Jefferson and George Washington. Trump singled out the defacement of a statue of Mahatma Gandhi, a nonviolent Indian activist, and the takedown of a statue of Ulysses S. Grant, who played a major role in defeating the Confederacy during the Civil War.
Trump on Monday said what's happening is a disgrace.
"Remember, some of this is great artwork. This is magnificent artwork, as good as there is anywhere in the world, as good as you see in France, as good as you see anywhere. It's a disgrace. Most of these people don't even know what they're taking down," Trump said.
"We are going to do an executive order and we're going to make the cities guard their monuments. This is a disgrace," Trump added.
Trump was speaking to Eternal Word Television Network.
Cities most affected by protests, rioting, and looting are run by Democrats, the president noted.
"It's all Democrats, usually liberal Democrats. Take a look. Whether it's Chicago, it's Democrat, Seattle, it's Democrat. The state of Washington. It's Democrat. Portland, it's Democrat. All of these places are run by Democrats. Twenty out of 20 are Democrat-run. They don't know what they're doing," he said.
If former Vice President Joe Biden, the presumptive Democratic presidential nominee, is elected, "this country would be a disaster," Trump said.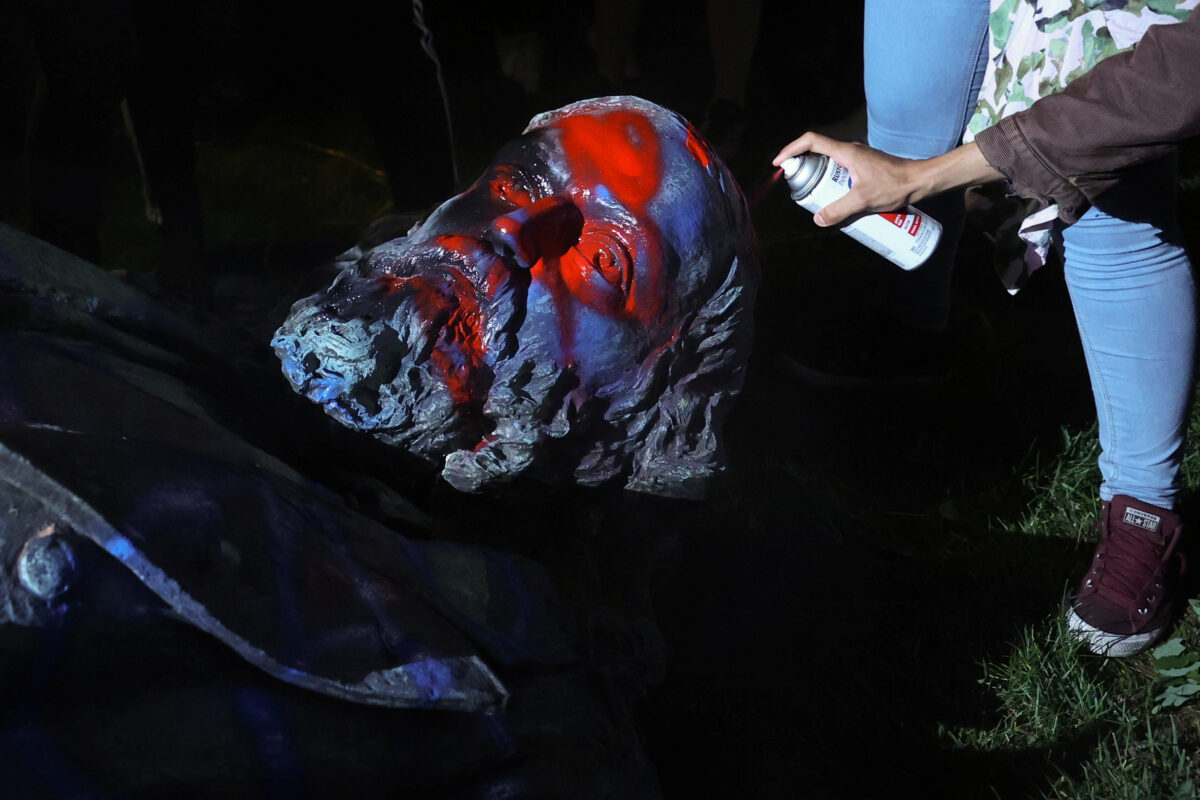 "Take a look at the way we're running things, we're running them good. And if I weren't president—talk about the statues—we wouldn't have any statues standing right now. Because I did things that you don't know about to save a lot of them," the president claimed.
Asked earlier Monday about Trump recently decrying the removal of memorials as an assault on "our heritage," White House press secretary Kayleigh McEnany pointed to polls showing more respondents oppose rather than support taking down the statues.
One of the latest polls, from Morning Consult, found 44 percent support keeping Confederate statues in particular. Thirty-two percent of respondents said the statues should be removed.
The political divide was evident: 71 percent of Republican respondents wanted the statues to remain while 53 percent of Democrats wanted them taken down. The survey was conducted among some 1,900 registered voters and had a two-point margin of error.
A number of polls in 2017 also indicated more of the American public oppose taking down Confederate statues rather than keeping them up. No surveys have asked people about statues of Founding Fathers or other less controversial figures.
Follow Zachary on Twitter: @zackstieber
Posted in Crime & Trump & Law news