ANN ARBOR — Graduate student instructors at the University of Michigan on Monday held a "die-in," complete with homemade tombstones and the melancholy playing of Taps, to protest the school's reopening plan amid COVID-19.
"We have a long list of grievances," Amir Fleischmann told The College Fix. Fleischmann is the secretary of the Graduate Employees' Organization, Michigan's union for graduate students.
The protest, staged on the university's first day of classes, intended to highlight the flaws which the graduate student instructors perceive in the university's plan for bringing students back to campus.
Under the plan, students watch large lectures online while attending smaller seminar-style classes either remotely or in-person.
"We want the unconditional option for graduate student instructors to teach remotely," Fleischmann said. "We don't have that right now. It's unacceptable."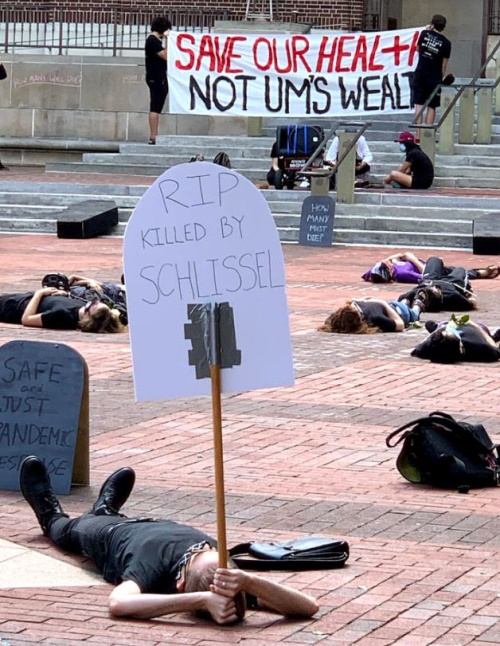 Students in Michigan's classes normally spend most of their time in large-capacity lectures given by their professors, but they also spend approximately an hour per week in smaller sections with GSI's who are pursuing their PhDs.
Fleischmann also denounced the university's testing policy.
"The policy they have right now is totally inadequate even by their own expert commissions. They need to listen to the experts and have a testing policy that is actually sufficient to ensure a safe community," he said.
The university will be offering COVID tests through its University Health Service upon request. It also required students to be tested before moving into residence halls while not requiring the same from students who live off-campus. The university identified two cases of coronavirus in its West Quadrangle dormitory when students first arrived.
Graduate students came to the protest clad in black clothes and were handed white roses which worshippers often use at funerals.
"Today, we are here to develop our own culture of care," the introductory speaker, a graduate student, told the crowd.
The next speaker, also a grad student, expressed outrage at the fact that "the COVID-19 pandemic does not affect all communities proportionally." She paid a specific mind to the impact of the coronavirus on various Native American tribes.
Next, the crowd welcomed a nurse at the University of Michigan Hospital. She called the university's reopening plan "confusing at best."
"They continue to talk about how broke they are in order to justify reopening the in-person learning," she said, "knowing that despite tighter staffing budgets and a traumatized and worn-out workforce, and normal operations back on track, another influx of COVID-19 is inevitable."
Later, the crowd welcomed a transgender graduate musician who performed an original song titled "Coronavirus Blues."
The musician asked the crowd, "So do you feel the COVID blues? Do you feel it from your mask on down to your dancin' shoes?"
Finally, another musician played "Taps" on the trumpet while GSIs lied down and pretended to be dead. First written in 1862 by U.S. Army General Daniel Butterfield as a "lights out" signal, the song quickly became associated with military funerals.
The graduate students also brought tombstones to further get their point across.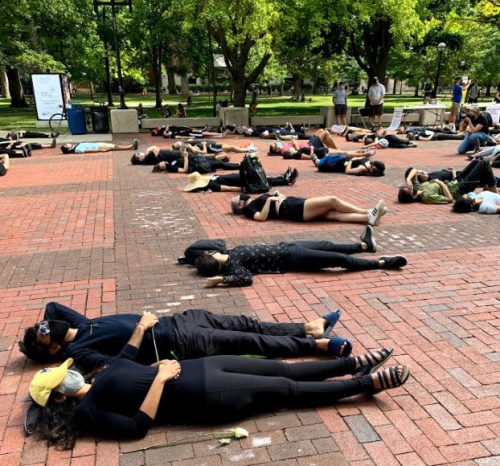 Examples of messages on the stones included: "In-Person Means We Could Die," "Health-Informed Is A Lie," and "Cause of Death: Schlissel."
Most of the GSIs, both those who spoke and those who attended the event, were specifically outraged at university President Mark Schlissel, as well as Ambassador Ron Weiser, who sits on the Board of Regents.
The Michigan Faculty Senate is considering a vote of no confidence in President Schlissel due to their disapproval of his reopening plan, as The Michigan Daily reports.
Fleischmann told The Fix that he believes Schlissel should resign from his position.
Regent Weiser is the former Chair of the Michigan Republican Party, and he was President George W. Bush's Ambassador to Slovakia.
One student held up a sign that read, "Regent Ron Weiser wants your rent and your life," referring to the Weiser family's ownership of McKinley Companies, which rents apartments to students.
While the graduate students seem to believe that they could potentially die from reopening, many of the demands Fleischmann articulated to The College Fix did not have much to do with COVID-19.
"In this moment of uprisings against racial injustice, we want the university to actually be in touch with the moment and cut ties with [the Ann Arbor Police Department], rather than expand them, as they're doing," he said.
In addition to funding for GSIs with children, Fleischmann also demanded "more support for international students."
"This summer, with all the nonsense going on over our student visas, U-M did not even have a hotline for us to call to talk to people about our visa issues," he said.
Fleischmann referenced the Trump administration's decision to revoke visas from international students if their colleges went entirely remote. The administration overturned that decision after several schools filed suit.
Fleischmann also called for the abolition of the $500 fee that U-M charges to international students each semester. The policy went into effect in the fall of 2019.