By Tyler Durden
Earlier today we pointed out that with the total amount on today's overnight reverse repo soaring to a fresh 4-year high of $369 billion, up $18BN on the day, and set to hit a record high in just a few days, Wall Street is now screaming at the Fed for doing more QE… and is why a taper would actually be viewed as a bullish development. After all, banks no longer have a place to stuff all those trillions in reserves, let alone another $1 trillion that the Fed would inject should it taper QE by the end of 2022.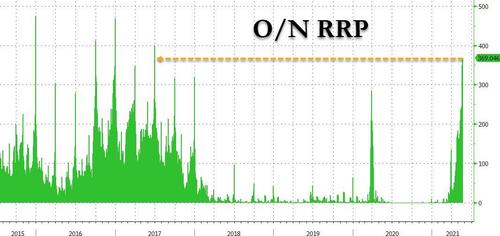 So maybe Jerome Powell called Biden to tell him that the Fed can no longer monetize every Democratic debt-funded whim, which is why on Friday, White House press secretary Jen Psaki said that the White House made a counterproposal to Senate Republicans to lower the overall price tag of Biden's infrastructure plan to $1.7 trillion, down from the original $2.3 trillion cost.
Psaki said that the counteroffer shifts funding for research and development, supply chains, manufacturing and small business to other proposed legislation that is being considered by Congress.
The new offer also lowers roads, bridges from $159B to $120B and also lowers broadband to GOP level. Still wants childcare covered No movement on tax increase pay-fors but openness to Infrastructure Bank
The new White House plan also lowers Biden's request for funding for broadband internet, as well as his proposed funding for roads, bridges and other infrastructure projects from $159B to $120B, but still wants childcare covered. There is also no movement on tax increase pay-fors but openness to Infrastructure Bank.   Psaki said those numbers will more closely align with Senate Republicans' requests.
"In our view, this is the art of seeking common ground," Psaki told reporters on Friday. "This proposal exhibits a willingness to come down in size, giving on some areas that are important to the president … while also staying firm in areas that are most vital to rebuilding our infrastructure and industries of the future."
Senate Republicans did not see it that way: with the Biden proposal still 3x more than the $568BN Republican Senator Shelley Moore Capito proposed earlier this week, Senate Republicans said they don't see the new plan as an improvement.