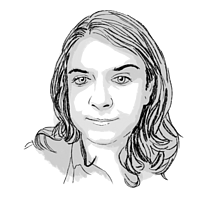 By Dominique Soguel
Sitting astride a calm chestnut mare, his eyes closed, the soldier draws in a deep breath. Then he surrenders his mind and his body to grief. He buries his face in the horse's mane, lets out a muffled sob, and breathes with the heavy steadiness of a runner determined to finish a long race.
"Healing has its highs and lows," says Flint, as the Ukrainian soldier is known, after guiding his horse at a walk twice around the paddock at the Arion riding club, on the outskirts of Odesa. "The recovery process can be good, but it can also be bad. Right now, I am working on stabilizing my mental health."
His mind has plenty to process. When a Russian tank shell hit his unit's position in the eastern region of Donetsk, several of his comrades were killed. He helped another, who had a severe open stomach wound, walk to safety while administering ad hoc first aid as best he could. The trauma and grief of such terrible moments returns in waves.
---